El factor inteligencia emocional vista como tema de investigación para la prevención de enfermedades. Una revisión sistemática de la literatura.
Palabras clave:
Inteligencia Emocional, Enfermedades crónicas, prevención
Resumen
La Inteligencia Emocional (IE), en cuanto conjunto de habilidades individuales para actuar y decidir sobre la manifestación y regulación de las emociones, en función del bienestar propio, está considerada como factor para la prevención de la salud solo desde hace pocos años. Mediante la metodología de revisión de la literatura, se obtuvo en el gestor de búsqueda de PubMed una muestra de 20 publicaciones para descubrir las tendencias de investigación en torno al factor IE para la prevención de enfermedades crónicas. Los resultados de la revisión permiten observar que, en realidad, no hay estudios específicamente centrados en IE para la prevención de enfermedades; también, que los pocos estudios localizados generalmente se dispersan en una serie de enfermedades, físicas y mentales, que hacen difícil una clasificación. La situación permite observar que el tema requiere investigación sistemática, misma que se halla en vías de fortalecimiento.
Descargas
La descarga de datos todavía no está disponible.
Citas
Macías Fernández AJ, Gutiérrez-Castañeda C, Carmona González FJ, Crespillo Vílchez D. Relación de la inteligencia emocional y la calidad de vida profesional con la consecución de objetivos laborales en el distrito de atención primaria Costa del Sol [Relationship between perceived emotional intelligence and professional quality of life with the achievement of occupational objectives in the costa del sol primary health care district]. Aten Primaria. 2016;48(5):301-307. doi:10.1016/j.aprim.2015.06.007. [PubMed]
Betanzos, AF y Rodríguez, MH. Fundamentos y aspectos conceptuales de la vigilancia epidemiológica. En: Hernández Ávila M y Lazcano Ponce E, editores. Salud pública. Teoría y práctica. Ciudad de México (México): Instituto Nacional de Salud Pública - Editorial El Manual Moderno; 2013. p. 231-257.
Tsirigotis K, Łuczak J. Gender Differentiation of Relationships Between Manifestations of Indirect Self-Destructiveness and Dimensions of Emotional Intelligence. Psychiatr Q. 2016;87(3):387-400. doi:10.1007/s11126-015-9402-2. [PubMed]
Urquijo I, Extremera N, Azanza G. The Contribution of Emotional Intelligence to Career Success: Beyond Personality Traits. Int J Environ Res Public Health. 2019;16(23):4809. Published 2019 Nov 29. doi:10.3390/ijerph16234809. [ PubMed ]
Mayer JD, Salovey P, Caruso DR, Sitarenios G. Inteligencia emocional como inteligencia estándar. emoción. 2001;1(3):232-242.[PubMed]
Arksey, H.; O'Malley, L. Scoping studies: Towards a methodological framework. Int. J. Soc. Psychiatr. Res. Methodol. 2005, 8, 19–32.
Dave HP, Keefer KV, Snetsinger SW, Holden RR, Paker JDA. Predicting the Pursuit of Post-Secondary Education: Role of Trait Emotional Intelligence in a Longitudinal Study. Front Psychol. 2019; 10:1182. Published 2019 May 24. doi:10.3389/fpsyg.2019.01182. [PubMed]
Brittain K, Myer L, Phillips N, et al. Behavioural health risks during early adolescence among perinatally HIV-infected South African adolescents and same-age, HIV-uninfected peers. AIDS Care. 2019;31(1):131-140. doi:10.1080/09540121.2018.1533233. [PubMed]
Gitahi N, Camlin C, Mwania V, Ngure K, Auerswald C, Bukusi E. Psychosocial needs among older perinatally infected adolescents living with HIV and transitioning to adult care in Kenya. PLoS One. 2020;15(7): e0233451. Published 2020 Jul 29. doi: org/10.1371/journal.pone.0233451 [PubMed]
Der Ananian C, Winham DM, Thompson SV, Tisue ME. Perceptions of Heart-Healthy Behaviors among African American Adults: A Mixed Methods Study. Int J Environ Res Public Health. 2018;15(11):2433. Published 2018 Nov 1. doi:10.3390/ijerph15112433. [PubMed]
Vlachakis C, Dragoumani K, Raftopoulou S, et al. Human Emotions on the Onset of Cardiovascular and Small Vessel Related Diseases. In Vivo. 2018;32(4):859-870. doi:10.21873/invivo.11320. [PubMed]
Núñez Martín M, Castillo Gualda R. El papel de la inteligencia emocional en la enfermedad cardiovascular [The role of emotional intelligence in cardiovascular disease]. Gac Sanit. 2019;33(4):377-380. doi:10.1016/j.gaceta.2018.04.008. [PubMed]
Costa S, Petrides KV, Tillmann T. Trait emotional intelligence and inflammatory diseases. Psychol Health Med. 2014;19(2):180-189. doi:10.1080/13548506.2013.802356. [PubMed]
Nadler A, Camerer CF, Zava DT, et al. Does testosterone impair men's cognitive empathy? Evidence from two large-scale randomized controlled trials. Proc Biol Sci. 2019;286(1910):20191062. doi:10.1098/rspb.2019.1062. [PubMed]
Mickey BJ, Heffernan J, Heisel C, et al. Oxytocin modulates hemodynamic responses to monetary incentives in humans. Psychopharmacology (Berl). 2016;233(23-24):3905-3919. doi:10.1007/s00213-016-4423-6. [PubMed]
Jung YH, Shin NY, Jang JH, et al. Relationships among stress, emotional intelligence, cognitive intelligence, and cytokines. Medicine (Baltimore). 2019;98(18): e15345. doi:10.1097/MD.0000000000015345. [PubMed]
Foye U, Hazlett DE, Irving P. Exploring the role of emotional intelligence on disorder eating psychopathology. Eat Weight Disord. 2019;24(2):299-306. doi:10.1007/s40519-018-0629-4. [PubMed]
Espinosa A, Kadić-Maglajlić S. The Mediating Role of Health Consciousness in the Relation Between Emotional Intelligence and Health Behaviors. Front Psychol. 2018; 9:2161. Published 2018 Nov 8. doi:10.3389/fpsyg.2018.02161. [PubMed]
Megías-Robles A, Gutiérrez-Cobo MJ, Gómez-Leal R, Cabello R, Gross JJ, Fernández-Berrocal P. Emotionally intelligent people reappraise rather than suppress their emotions. PLoS One. 2019;14(8): e0220688. Published 2019 Aug 12. doi: 10.1371/journal.pone.0220688. [PubMed]
Masumoto K, Shiozaki M, Taishi N. The impact of age on goal-framing for health messages: The mediating effect of interest in health and emotion regulation. PLoS One. 2020;15(9): e0238989. Published 2020 Sep 17. doi: 10.1371/journal.pone.0238989. [PubMed]
Guerra-Bustamante J, León-Del-Barco B, Yuste-Tosina R, López-Ramos VM, Mendo-Lázaro S. Emotional Intelligence and Psychological Well-Being in Adolescents. Int J Environ Res Public Health. 2019;16(10):1720. Published 2019 May 16. doi:10.3390/ijerph16101720. [PubMed]
Obeid S, Haddad C, Akel M, Fares K, Salameh P, Hallit S. Factors associated with the adults' attachment styles in Lebanon: The role of alexithymia, depression, anxiety, stress, burnout, and emotional intelligence. Perspect Psychiatr Care. 2019;55(4):607-617. doi:10.1111/ppc.12379. [PubMed]
Johnson E, Hervás R, Gutiérrez López de la Franca C, Mondéjar T, Ochoa SF, Favela J. Assessing empathy and managing emotions through interactions with an affective avatar. Health Informatics J. 2018;24(2):182-193. doi:10.1177/1460458216661864. [PubMed]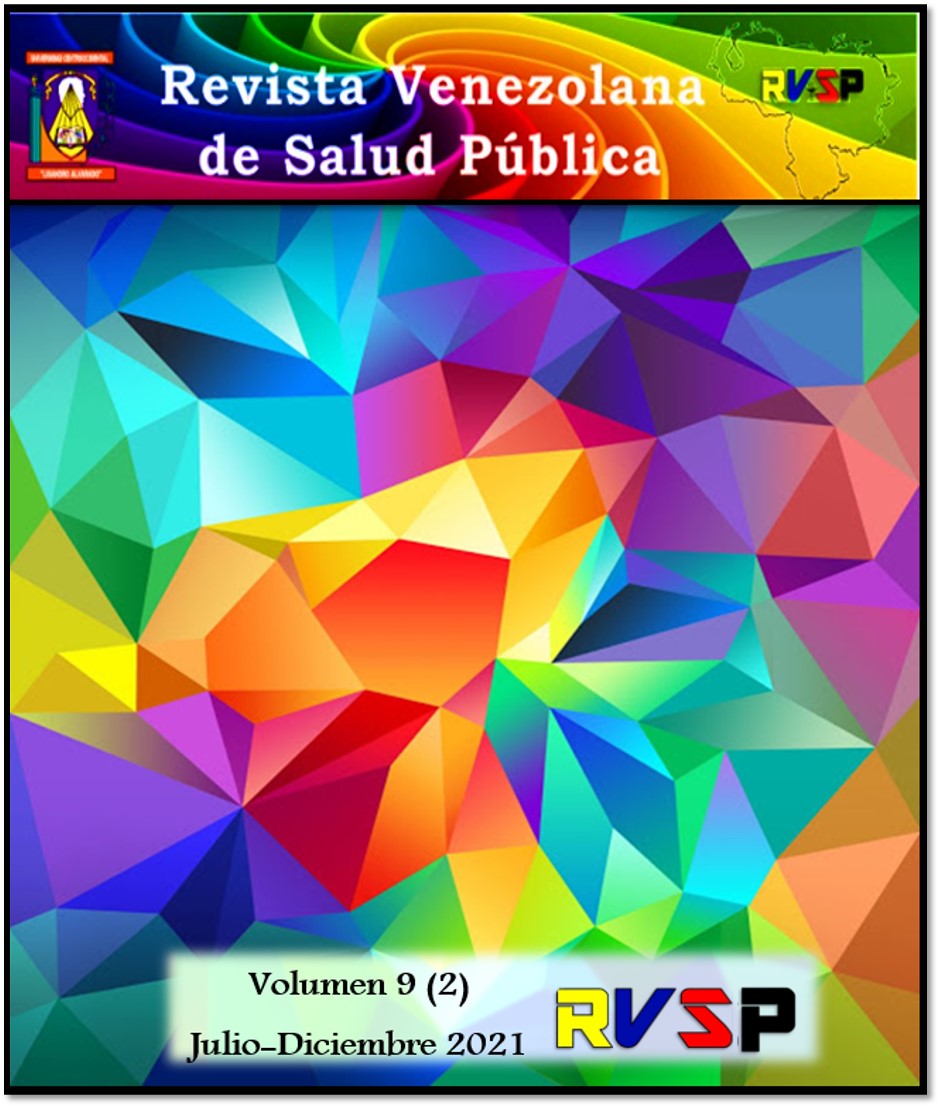 Cómo citar
Martínez Sala., G. (2021). El factor inteligencia emocional vista como tema de investigación para la prevención de enfermedades. Una revisión sistemática de la literatura . Revista Venezolana De Salud Pública, 9(2), 19-26. Recuperado a partir de https://revistas.uclave.org/index.php/rvsp/article/view/3464
Sección
Artículos originales
Está obra está bajo licencia Creative Commons Attribution-NonCommercial-ShareAlike 4.0 International License.
Derechos del/de autor/es a partir del año de publicación
Esta obra está bajo la licencia:
Creative Commons Reconocimiento-NoComercial-CompartirIgual 4.0 Internacional (CC BY-NC-SA 4.0)
Las opiniones expresadas por los autores no necesariamente reflejan la postura del editor de la publicación ni de la UCLA. Se autoriza la reproducción total o parcial de los textos aquí publicados, siempre y cuando se cite la fuente completa y la dirección electrónica de esta revista. Los autores(as) tienen el derecho de utilizar sus artículos para cualquier propósito siempre y cuando se realice sin fines de lucro. Los autores(as) pueden publicar en internet o cualquier otro medio la versión final aprobada de su trabajo, luego que esta ha sido publicada en esta revista.