Opportunities to intervene and improve the historical center of the city of Barquisimeto, Venezuela
Keywords:
Barquisimeto historic center, intervention of historic centers, historical heritage
Abstract
Los centros históricos son una ventana del paso histórico de la ciudad, su preservación impacta en el desarrollo económico y social de sus habitantes. En Latinoamérica, gracias a la Ley de Indias de la época colonial, los centros se construían en forma de retícula con una plaza como el punto central y, a su alrededor se edificaba el resto de las construcciones necesarias para el funcionamiento de la ciudad. Con el desarrollo vertiginoso de las zonas urbanas hacia la periferia, estos centros han sido algo descuidados. En el centro histórico de Barquisimeto, Venezuela, no se escapa de esta realidad, sin embargo, se encuentran edificaciones de valor histórico que pueden ser intervenidas para lograr que puedan ser sostenibles. El presente trabajo incluye las oportunidades de intervención y potenciación del centro histórico de esta importante ciudad venezolana
Downloads
Download data is not yet available.
References
UNESCO, "Cultura Futuro Urbano" UNESCO, Francia, 2017
Congreso de la República de Venezuela, «Ley Orgánica de Ordenación Urbanística», N° 33.868, Gaceta Oficial de la República de Venezuela, Extraordinario, 16-dic-1987. Capítulo II. De la Planificación Urbanística Nacional, Venezuela, 1987
A. Aparicio, Ó. Serrano y D. León, "REHABILITACIÓN Y REUTILIZACIÓN DEL PATRIMONIO URBANO. LOS CENTROS HISTÓRICOS DE NUEVAS CAPITALES POLÍTICAS ESPAÑOLAS PATRIMONIO DE LA HUMANIDAD," Cuadernos de Turismo, nº 42, pp. 15-45, 2018
A. Urdanigue, "REVITALIZACIÓN DE CENTROS URBANOS DESDE LA PERSPECTIVA DEL PROGRAMA MAIN STREET EN BARRIOS ALTOS," Devenir, vol. 4, nº 8, pp. 33-48, 2017
G. Boscán, "Centro Histórico de Barquisimeto ¿Ícono de identidad y cultura?," CONHISREMI, Revista Universitaria de Investigación y Diálogo Académico, pp. 166-183, 2014
M. Zambrano, "La urbanización latinoamericana durante la época colonial: una mirada para su enseñanza," Revista Educación y Humanismo, pp. 116-128, 2010
J. Bazant, "Deterioro del Centro Histórico de las ciudades ¿Es viable su reactivación?," Timepo y Espacio, pp. 61-86, 2012
P. Ormindo, "El Pelourinho de Bahia, cuatro décadas después," Iconos. Revista de Ciencias Sociales, pp. 45-52, 2004
G. Alcazar, "La proyección de los cascos históricos como herramientas de diseño urbano," Urbanismo. Revista Oficial del Colegio de Arquitectos de Madrid, pp. 6-13, 1990
UNESCO, "World Heritage List," 2021. [En línea]. Available: http://whc.unesco.org/en/list/
J. Lerner, "Acupuntura urbana" Barcelona: Institut d'Arquitectura Avançada de Catalunya, 2005
Municipio-Irribaren, "ORDENANZA DE REFORMA DE LA ORDENANZA DEL PLAN DE BARQUISIMETO," Barquisimeto, 2003
A. Pérez y C. Mogollón, "PROPUESTAS DE CONECTIVIDAD DEL CASCO HISTÓRICO DE BARQUISIMETO CON OTROS SECTORES DE LA CIUDAD," Revista Gaceta Técnica, pp. 73-82, 2020
INE, «XIV CENSO NACIONAL DE POBLACIÓ Y VIVIENDA,» Ministerio del Poder Popular de Planificación , Barquisimeto, 2014
C. Rodriguez, "Cornisas y áticos de Barquisimeto: el remate ornamental de la fachada de la casa tradicional , siglo XIX-XX," de Trienal de Investigación, Caracas, 2011
V. Di Lanzo, V. García y I. Judez, "Interversiones e Inserciones en el centro Histórico de Coro. Tres propuestas de Diseño para la rehabilitación del patrimonio," Caracas: UCV, 2014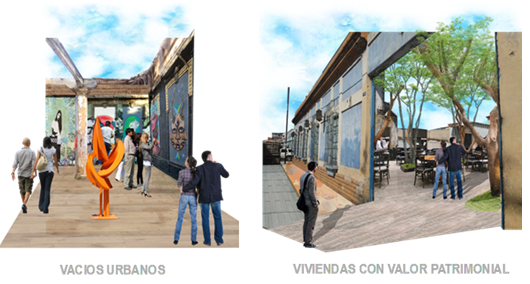 How to Cite
Osal Vásquez, A., Linares, E., Valles, Y., & Figueroa, C. (2021). Opportunities to intervene and improve the historical center of the city of Barquisimeto, Venezuela. Gaceta Técnica, 22(2). Retrieved from https://revistas.uclave.org/index.php/gt/article/view/3345
Section
Research articles
Copyright (c) 2021 Andrea Osal Vásquez, Efraín Linares, Yulianny Valles, César Figueroa
This work is licensed under a Creative Commons Attribution-NonCommercial-ShareAlike 4.0 International License.
Copyrights of the author / s from the year of publication
This work is under international license Creative Commons Reconocimiento-NoComercial-CompartirIgual 4.0.
The opinions expressed by the authors do not necessarily reflect the position of the editor of the publication or UCLA. The total or partial reproduction of the texts published here is authorized, provided that the complete source and electronic address of this journal is cited. Authors have the right to use their articles for any purpose as long as it is done nonprofit. The authors can post on the internet or any other media the final approved version of their work.