América Latina 2008-2012. Inversión social en educación, salud, vivienda y asistencia social como porcentajes del PIB
Palabras clave:
inversiones sociales, condiciones económicas y sociales de América Latina, métodos de investigación social
Resumen
El objetivo principal de este artículo de investigación es realizar un estudio comparativo de la inversión social en veinte países latinoamericanos. Este indicador de inversión social se analiza con base en cuatro aspectos: (i) educación; (ii) salud; (iii) vivienda; y (iv) asistencia social general; todos ellos se identifican como porcentajes del producto interno bruto de los diferentes países. De esa manera, se estima la atención social en función de la capacidad productiva de las diferentes naciones. La metodología incluye comparaciones con condicionantes de pobreza e indigencia. Se establecen análisis de gráfi cos, de parámetros estadísticos, de correlaciones, modelos econométricos, además de análisis por agrupaciones. Los países con mayor inversión social resultan ser Argentina, Uruguay y Brasil; los de menor inversión en este campo serían: Guatemala, Honduras y Paraguay.
Descargas
La descarga de datos todavía no está disponible.
Citas
ACEMOGLU, DAVID and JAMES ROBINSON (2008). Persistence of Power, Elites and Institutions. American Economic Review. Vol. 98. No. 1. pp. 267-293.

ANDERSON, DAVID; DENNIS J. SWEENEY y THOMAS A. WILLIAMS (2003). Estadística para Administración y Economía. Thompson Editores. México.

ARESTIS, PHILIP (2004). Economía postkeynesiana: hacia la coherencia. En: ETXEZARRETA, MIREN (2004). Crítica a la Economía Ortodoxa. Universidad Autónoma de Barcelona. España. pp. 607-636.

BARDHAN, PRANAB and DILIP MOOKHERJEE (2012). Political Clientelism and Capture: Theory and Evidence from West Bengal, India. University of Berkeley. USA.

BAULCH, ROBERT and JOHN HODDINOTT (2000). Economic Mobility and Poverty Dynamics in Developing Countries. Frank Cass, Publishers. England.

BERENSON, MARK; DAVID LEVINE y TIMOTHY KREHBIEL (2006). Estadística para la Administración. Prentice-Hall. México.

BOWERMAN, BRUCE; ANNE B. KOEHLER y RICHARD T. O'CONNELL (2007). Pronósticos, Series de Tiempo y Regresión. Cengage Learning Latin America. México.

CANALES, MANUEL (Compilador) (2008). Metodología de la Investigación Social. LOM Ediciones. Chile.

COMISIÓN ECONÓMICA DE AMÉRICA LATINA Y EL CARIBE-CEPAL (2013). Estadísticas Sociales de América y el Caribe 2012. Chile.

CONSTANTINI, VALERIA and SALVATORE MOONI (2006). Environment, Human Development and Economic Growth. Fondazione Eni Enrico Mattei. Italia.

DEPARTAMENTO DE ADMINISTRACIÓN NACIONAL DE ESTADÍSTICAS - DANE (2013a). Situación de Pobreza y Coeficientes de Gini por Departamentos en Colombia. Colombia.

DEPARTAMENTO DE ADMINISTRACIÓN NACIONAL DE ESTADÍSTICAS - DANE (2013b). Encuesta Continua de Hogares y Gran Encuesta Integrada de Hogares. Colombia.

DIXIT, AVINASH and JAMES LONDREGAN (1995). Redistributive Politics and Economic Efficiency. American Political Science Review. Vol. 89. No. 4. pp. 856-866.

DYMSKI, GARY (2010). Development as social inclusion: Reflections on the US subprime crisis. Development. Vol. 53. No. 3. pp. 368-375.

EVANS, MONICA (2011). Achieving a racial democracy in brazil through race based social inclusion higher education policy. Michigan State University. USA.

FAN, SHENGGEN (2008). Public Expenditures, Growth and Poverty. Johns Hopkins University Press. USA.

GALASSO, EUGENE and MARTIN RAVALLION (2005). Decentralized Targeting of an AntiPoverty Programme. Journal of Public Economics. Vol. 89. No. 4. pp. 705-727.

GARCÍA, LUIS (2010). Econometría de Evaluación de Impacto. Pontificia Universidad Católica del Perú. Perú.

GOODWIN SMITH, IAN (2009). Something more substantive than social inclusion. Social Alternatives. Vol. 28. No. 2. pp. 53-57.

GOUGH, IAN and ALLISTER McGREGOR (2007). Wellbeing in Developing Countries. Cambridge University Press. USA.

GUGLER, PHILIPPE and JULIEN CHAISSE (2010). Competitiveness of the ASEAN Countries. Edward Elgar Publish. USA.

KELLEHER, MYLES (2004). Social Problems in a Free Society. Harvard University Press. USA.

KOCH, MAX (2003). Social Inclusion and Crisis after Fordism. 6th European Sociological Association Conference. Spain.

KRUGMAN, PAUL (2007). Rethinking International Trade. MIT Press. USA.

LEÓN GUERRERO, ANNA (2013). Social Problems and Social Action. Routledge. USA.

LEUENBERGER, DAVID and MICHELE WAKIN (2007). Sustainable development in public administration planning: An exploration of social justice, equity, and citizen inclusion. Administrative Theory & Praxis. Vol. 29. No. 3. pp. 394-411.

LEVIN, JACK (2008). Fundamentos de Estadística en Investigación Social. Oxford University Press - Alfaomega Grupo Editor. México.

LEVINE, ALAN (2011). Bad Old Days: The Myth of the 1950s. Greenwood. USA.

LOCKWOOD, MATTHEW (2000). The Political Economy of Human Development. UNDP - University of Oxford. England.

MITSCHKE, ANDREAS (2008). The Influence of National Competition Policy on the International Competitiveness of Nations. Physica-Verlag, Springer. USA.

MORALES, EFRAÍN (2001). Introducción a la Econometría. Abya Yala - Ministerio de Educación del Ecuador. Ecuador.

MYRDAL, GUNNAR (2004). Asian Drama: An Inquiry into the Poverty of Nations. Kalyani Publishers. India.

NORTH, DOUGLASS (1981). Structure and Change in Economic History. W. W. Norton & Co. USA.

NORTH, DOUGLASS (2008). Institutions, Institutional Change and Economic Performance. Cambridge University Press. USA.

ORGANIZACIÓN DE LAS NACIONES UNIDAS (2005). Objetivos de Desarrollo del Milenio. USA.

PORTER, MICHAEL (2011). Competitive Advantage of Nations. Free Press. England.

RICARDO, DAVID (2007). Ricardo´s High Price of Bullions and an Essay on Profits. Cosimo Classics. USA.

SACHS, JEFFREY y SUSAN COLLINS (2007). Developing Country Debt and Economic Performance. University of Chicago Press. USA.

SMITH, ADAM (2004). Teoría de los Sentimientos Morales. Fondo de Cultura Económica. México.

SMITH, ADAM y FRIEDRICH HAYEK (2007). Ética y Economía. Editorial de la Universidad Iberoamericana. México.

STIGLITZ, JOSEPH (2002). El Malestar con la Globalización. Taurus. Colombia.

STIGLITZ, JOSEPH (2008). Los Felices Noventa y la Semilla de la Destrucción. Taurus. Colombia.

THORP, ROSEMAY (2000). Descentralization as a Potential Stimulus to Human Development. UNDP - University of Oxford. England.

TRIBE, MICHAEL; FREDERICK NIXSON and ANDY SUMNER (2010). Economics and Development Studies. Routledge. USA.

UNITED NATIONS DEVELOPMENT PROGRAMME - UNDP (2006a). HDR Toolkit, Practical Guidelines, Examples and Resources for Achieving Excellence in HDRs. USA.

UNITED NATIONS DEVELOPMENT PROGRAMME - UNDP (2006b). Human Development Report 2006 Beyond Scarcity: Power, Poverty and the Global Water Crisis. USA.

UNITED NATIONS DEVELOPMENT PROGRAMME - UNDP (2006c). The HDR Timeline and Checklist, A Convenient Guide to the Basic Steps Necessary for Preparation of a Human Development Report. USA.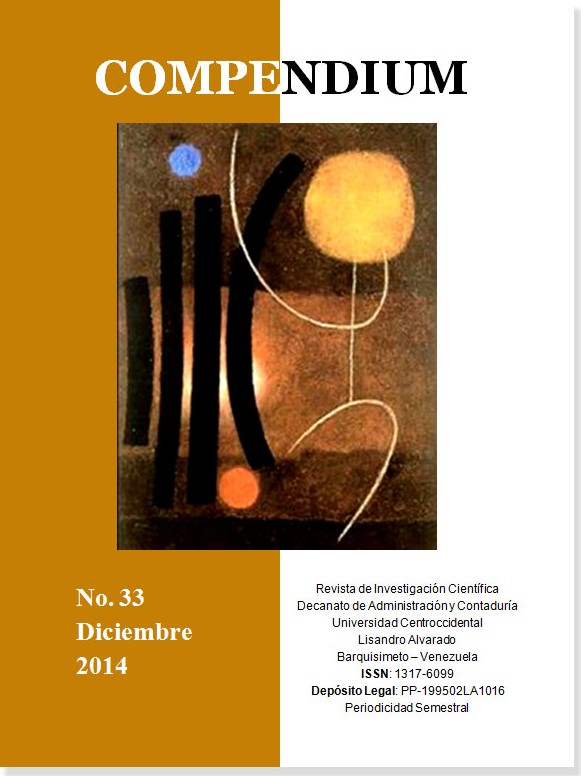 Cómo citar
Reyes, G. E. (2014). América Latina 2008-2012. Inversión social en educación, salud, vivienda y asistencia social como porcentajes del PIB. Revista Científica Compendium, 17(33), 57-80. Recuperado a partir de https://revistas.uclave.org/index.php/Compendium/article/view/1884